I. Introduction of wear liner
Wear liners are manufactured from our special carbide material. The special tungsten carbide for the chute plates enjoys high hardness, high strength, and high wear resistance. Its service life is much higher than the traditional wear-resistant plate. Carbide wear plates are embedded to the substrate of steel through vacuum welding.
The special vacuum welding process combines the tungsten carbide with the steel perfectly. The tungsten carbide can be applied to various harsh environments such as high temperatures, low cold, and high-impact occasions.
Wear liners are used to transport material in mining operations. When the material is fed into a process or discharged from it, the chutes collect, convey and prepare the material flow for the following processing phase. Chutes are used with crushers, feeders, conveyors, stackers, and grinding mills.
Many people might question how to install the liners if the carbide is brazed on it. Please check the picture below, there are the studs brazed on the backing plates, and the liners can be easily installed onto the chute directly.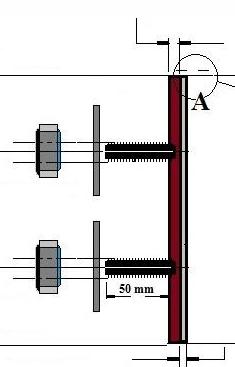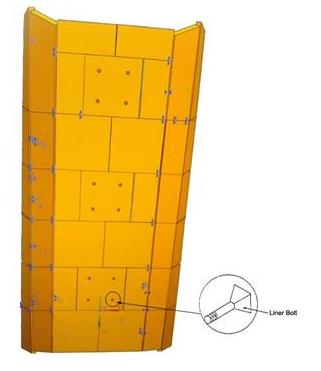 II. Features of the wear liner:
*100% Chinese famous brand virgin material
*HIP sintering
*Carbide grades are chosen according to onsite usage
*ISO 9001 production standard, ERP and MES control the whole production process
*Comprehensive Quality Inspection throughout the whole production
III. Features of the vacuum brazing:
1. Brazing strength: Vacuum brazing can generate stronger brazing strength, which can be over 200Mpa
2. Large-area brazing: Vacuum brazing is more suitable for large-area brazing, and it is not easy to cause alloy cracking
3. Less false brazing: Vacuum brazing is not prone to false brazing. Because the temperature in the furnace is uniform, and the flux is easy to cover the entire brazing area.
4. Eco-friendly: Vacuum brazing is more environmental-friendly and produces less pollution.
IV. Why choose ZZ Old Craftsman to wear liners?
*1. Our company's been doing vacuum brazing for 9 years. From the initial experiment to the current mature technique, we've accumulated lots of experience.
*2. We communicate closely with customers and help customers adjust the tungsten carbide parameters and upgrade product structure according to the on-site usage, so that the use effect of the product reaches the best state.
*3. Our engineers have been in tungsten carbide manufacture for more than 30 years, thus our control of alloys is very precise. At the same time, our company is equipped with complete testing equipment, starting from the testing of carbide powder, testing of press blanks, and testing of finished products after sintering, to ensure that the performance of each batch of products is qualified and stable.
*4. We have a complete production line, from ball milling — pressing — sintering — finishing — brazing — post-processing, to control the quality of products from the source.
V. Application:
Carbide wear plates are used for mineral processing and transportation via mechanical or conveyor systems, such as typically fixed or mobile plant equipment consisting of chutes, feed bins, fan boxes, crushers, screen plates, fan blades, cyclones, and pipe spools.
Small pieces of carbide plate applications are in high demand in several industries, including crushing in the mining and recycling industries, and chute liner wear plates in conveying systems.
VI. FAQ
Q: What are your main products for tungsten carbide brazing?
A: Our advantage products are brazed carbide wear plates, brazed carbide crushing hammerheads, brazed carbide nozzles, brazed carbide scrape blades, brazed liners for refractory brick mold, and any of customized brazed items.
Q: Do you have an OEM&ODM option?
A: Yes, we have. Customized product is our advantage.
Q: What is your MOQ?
A: It depends on the exact product; there usually is no MOQ limitation for standard products.
Q: How long have you been producing this product?
A: We have been doing research and development, and producing carbide brazing products for over 8 years, gaining much successful experience in it.